I am a self -confessed planner fanantic! It is not uncommon for me to have multiple planners each year. All of my planners have a purpose and I use them all in different ways to help me achieve the various goals I have set for myself in a particular year.
Living on a farm, with 3 kids heavily involved in sports, and my own endeavors to keep track of, I have come to terms with the fact that planner peace for me is being able to change to switch things up to a different system as needed based on the current season, and I've tried a lot of different planners out!
Why Shop for Next Years planner During the Fall?
Even though I have been out of school for quite a while, Autumn always feels like feels like a fresh start. It also motivates me to get organized, and productive. To map out projects and plans, and make them happen. Maybe it's a conditioned thing, but autumn feels like starting over even as an adult. So it makes perfect sense that I spend time in the fall researching my planner options for the upcoming year, and taking advatage of special pre-order pricing during the fall planner launches.
The Best Planners to Help You Stay Organized
Planners are a great tool if you're trying to put your best, most productive self forward. Regardless if you're looking for something to be a creative outlet, or a more functional option to help you stay motivated throughout the year, check out this list of the planners that I have used and loved. These planners all range in size, layout, and design, to help you find an organization system that best fits your needs.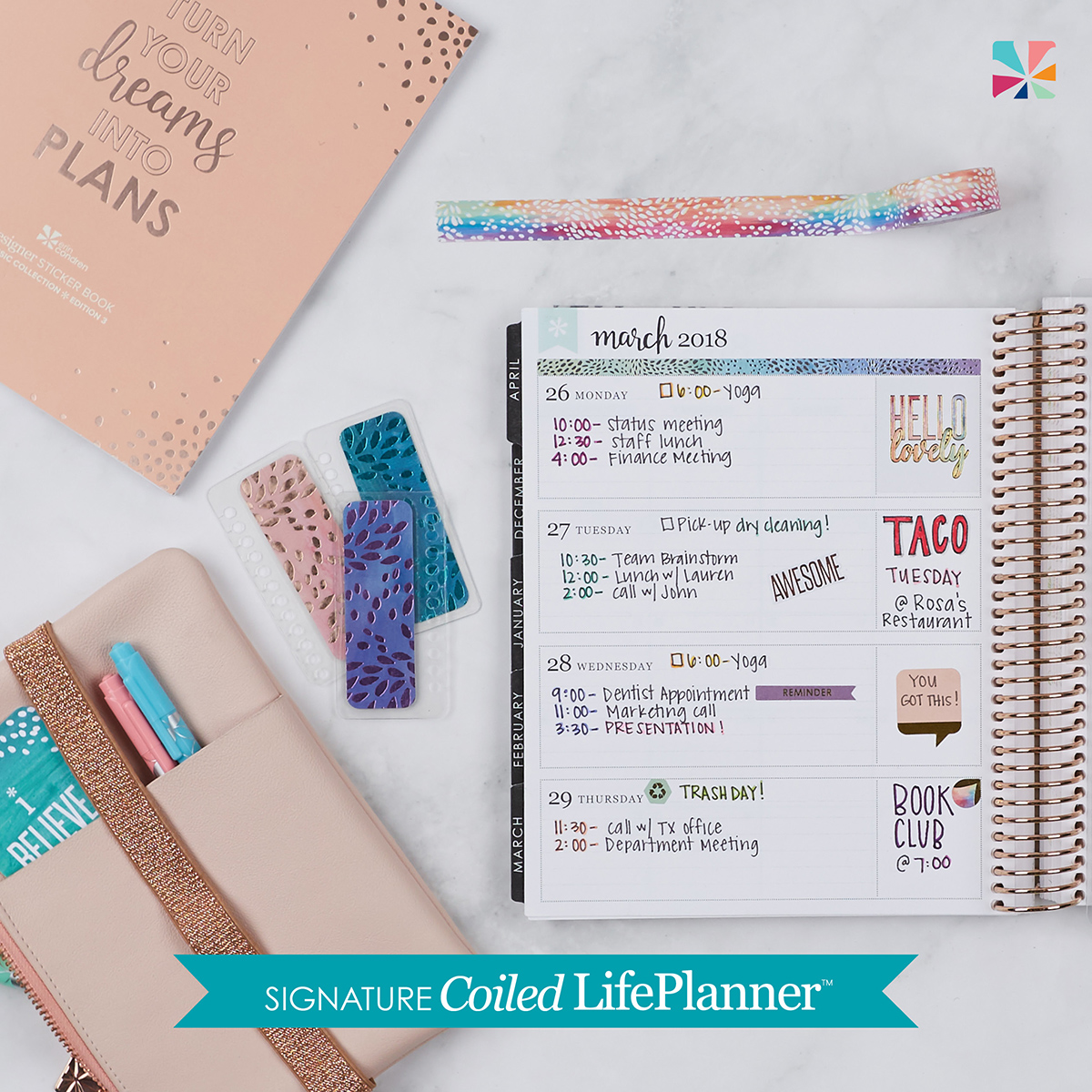 The Erin Condren Company is known for their high quality, beautiful coil-bound planners that are customizable with interchangeable covers and a plethora of coordinating accessories.
I bought my first Erin Condren LifePlanner™ (affiliate link) in 2015, and at the time I stressed out a little bit about spending close to $60 on a planner. It was my first high end planner purchase but I knew I needed something to juggle the chaos of my kids sports schedules, home management and blogging. And I felt like if it was something I really enjoyed using, I would be more inclined to actually use it. The paper used in the Life Planner is a thick Mohawk paper, that keeps me coming back year after year.
I found using stickers in my Erin Condren Life Planner (affiliate link) helped me stay organized and also offered a creative outlet. I was 100% hooked. Erin Conderen Weekly Layouts include: the hourly, vertical & horizontal layout. Last year a Daily Duo Planner was launched to generally positive reviews, but I have yet to try that version of the Life Planner.
If you don't require a lot of different planner features, the Daily Simplified Planner by Emily Ley is a great choice. This planner features a super clean daily layout, colorful cover options, and an agenda to track your appointments, meetings or time blocks. There is also plenty of space for notes, or to journal. The Simplified planner is also available in a weekly ($50) layout.
The Happy Planner by Me & My Big Ideas is an affordable option that is perfect to keep you organized and provide a creative outlet. If you love stickers, doodling, and a planner that is custom to your needs, the Happy Planner is for you! There are so many add-ons you can get for your Happy Planner!
You can purchase any Happy Planner online at Me and My Big Ideas, but my favorite place to purchase Happy Planners and coordinating accessories is at Michaels. They by far have the best selection of Happy Planners and accessories and you can usually use a coupon to get them up to 40%!
Happy planners are usually weekly planners, that come in a vertical or horizontal layout. that are bound by discs which is a system that can have its pros and cons. The pages have slots which means you can take them out of the planner and write on, or decorate them and then put them back in.
If you like customizable sections, simple layouts, and spiral bound planners, it's definitely worth taking a look at Plum Paper Planners! With tons of layout options including horizontal, vertical, grid, weekly, daily, monthly, the website system might seem a little daunting at first, but if you spend the time on the customizations and add-ons I bet you will find a planning system that works for you.
If you need a little bit of structure and guidance in your planner, The Living Well Planner is awesome because it not only has space for your weekly planning but also has great monthly goal setting, project planning, budgeting and grace & gratitude pages also. As busy moms, we need all those kinds of pages. I love how this planner helps you break down your goals in all areas of your life so you can incorporate them into your life.This is an undated planner too so you can start anytime and use it when and how you need it.
Tips for Finding Your Perfect Planner
Set a Budget
Spending $60 on a planner I use every single day to help me organize myself and my family is a worthwhile investment, but not everyone feels the same, and that's fine. Decide how much money you can spend on a planner so you can find something that works in your budget. Don't waste time researching something you can't afford.
Choose Your Style
Do you enjoy bright and colorful, or neutral and subdued? Planners can be can be clean and minimalistic, or bright and colorful and decorated with inspirational quotes and illustrations. Happy Planners tend to be more heavily decorated, while the Plum Paper Planner and Simplified Planner focus on function.
Pick your Ideal Size
Size is the area that I find the hardest to make a decision on. Too small and it can be hard to find the right set up for what you need, too big and your planner can become really cumbersome and hard to use.
For the most part, personal preference plays the largest role in this choice, but there are a few things to keep in mind when picking your size.
Do you need your planner to be portable? If you want to take your planner with you a smaller planner that fits in your purse might work best for you.
How large is your writing? My handwriting is on the larger side, and smaller planners can present a bit of a space challenge.
How much do you need to write down? If you have a lot of stuff going on each week, or are keeping track of multiple family memebers schedules and activities, you are going to want a planner with the space to accomodate that. If you just want a planner where you can quickly jot down notes or ideas, a smaller planner might be the ideal choice for you.
Pick Your Ideal Layout
The layout that works for you will also be a highly personal choice. Weekly or daily — each planner layout serves a unique purpose.
Do you need to plan your days down to the hour? A daily planner with an hourly layout sounds like the right choice for you. These planners are perfect for time blocking and task batching.
Would you like a view of your whole week? Weekly planners are great if you like seeing the entire week in front of you without having to flip back and forth between pages. I've found weekly planners help me keep track of the kids events and also provide enough space for me to manage my own tasks.
Weekly Planners usually come in horizontal or vertical formats. If you find you make a lot of lists in your planner a vertical layout might be your cup of tea. Horizontal seems to work best if you intend to write in longer phrases or short sentences.
Choose Your Binding Preference
There are a variety of binding options out there. Just like with choosing the size, the binding option you choose is a completely personal preference, but here are my thoughts based on my experiences.
Discbound Planners
The Happy Planner is the most well known discbound planner. Discbound planners are great if you will be spending a lot of time tweaking and customizing your planner. You can easily remove, add, and rearrange pages, just like you could in a 3 ring binder. The drawback to discbound binding is the planner can feel flimsy, and not be the most professional looking option.
Spiral Bound
The Erin Condren Life Planner is an example of a typical spiral bound planner. I find the spiral binding to be the least problematic of all the binding systems I have listed here.
Wire-O binding
Planners bound using the Wire-O method tend to lie flat, and sheets can turn 360°, which is ideal for calendars or notebooks. The Simplified Planner and Living Well Planner both use a wire-o binding system. The biggest drawback to the Wire-O binding is that it can cause the planner to not open and close smoothly when you get near the end of the planner, which can be frustrating, but this typically isn't a deal breaker for me.
Planners are a Tool to be Used
The only real true way to find out what you do and don't like in a planner is to actually get into one and try it out for a while. The hunt for the right planning system will take time and a little bit of trial and error, be open to the process. You will probably spend money on things you don't use later, and it will take time for you to develop a routine to use your planner. But stick with it.
You will find just the right system for you.